100 Ways to Motivate Yourself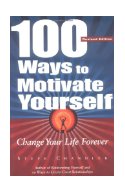 This Book @ Amazon.com
(From $7.99)
This Book @ Amazon.ca
(From $CAN 55.90)
This Book @ Amazon.co.uk
(From £31.98)
Related Products (usually books and/or movies)
= Amazon.com   |   
= Amazon.co.uk   |  
= Amazon.ca.
Other Books by Steve Chandler listed on BestMotivation.com
Quotes & Excerpts
Warning
: file_get_contents(https://graph.facebook.com//quote/419.htm): failed to open stream: HTTP request failed! HTTP/1.1 400 Bad Request in
/home/common_NEW/quotes/showquotes.inc
on line
19
The best way to change your belief system is to change the truth about you. What you actually *do* is more important than what you say you'll do.
By Steve Chandler
| comments
Rate this quote:
Rating: 6.5 | Votes: 2
BestMotivation.com Visitors' Reviews / Comments
No review / comment found