How to Win Friends and Influence People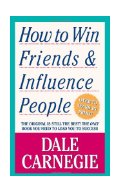 This Book @ Amazon.com
(From $5.29)
This Book @ Amazon.ca
(From $CAN 28.00)
This Book @ Amazon.co.uk
(From £24.95)
Related Products (usually books and/or movies)
No Similar Book Found

Other Books by Dale Carnegie listed on BestMotivation.com
No book found.

Quotes & Excerpts
No Quote Found
BestMotivation.com Visitors' Reviews / Comments
Submitted by Unknown
This book is a must read for anyone wishing to live a meaningful life. One of the 20th century's best books.

Submitted by Unknown
I took a 12 week Dale Carnegie class and it changed my life! I love the books and read this book along with other Dale Carnegie books all of the time and the stories are ones that you can sincerely relate to. If you can take the class, do it!! It will change your life!!!